As regards Bath property prices, 2019 has so far been very much a game of two halves. The beginning of the year saw a continuation of Brexit uncertainty affecting the local property market whereas the summer onwards showed significant signs of recovery. From our in house tracking of the vital local property statistics, the two Bath postcodes survived relatively unscathed in price terms with strong signals of growth recovery at the end of the summer holidays. The local Land Registry data below shows a spike in prices over the last recorded month of transactions (July completions) which went a long way to counteract the decline in prices experienced in the early part of the year. As you can see, BA1 is currently 6.5% up year on year whereas the more populous BA2 is holding steady at 0.1% down (compared to 4.1% up and 2.6% down in June figures).
So that's prices but what about how many people are moving? HMRC data suggests a 12% drop on UK transaction numbers compared to July 2018. However, in Bath, we seem to have bucked that trend somewhat with BA1 and BA2 completion numbers only 2% and 6% down respectively. "On market" stock levels have now also returned to broadly standard seasonal patterns. Average time on market/selling times are now faster than midsummer levels, further reinforcing the theory we have turned the corner towards a gentle upslope.
Beyond the raw numbers, the market atmosphere has also, at least from our experience, shifted away from caution and conservatism. Having waited so long already for any sort of resolution, the autumn market has been extremely active and there is a definite feeling in Bath property as we move towards Christmas of "lets just get on with life".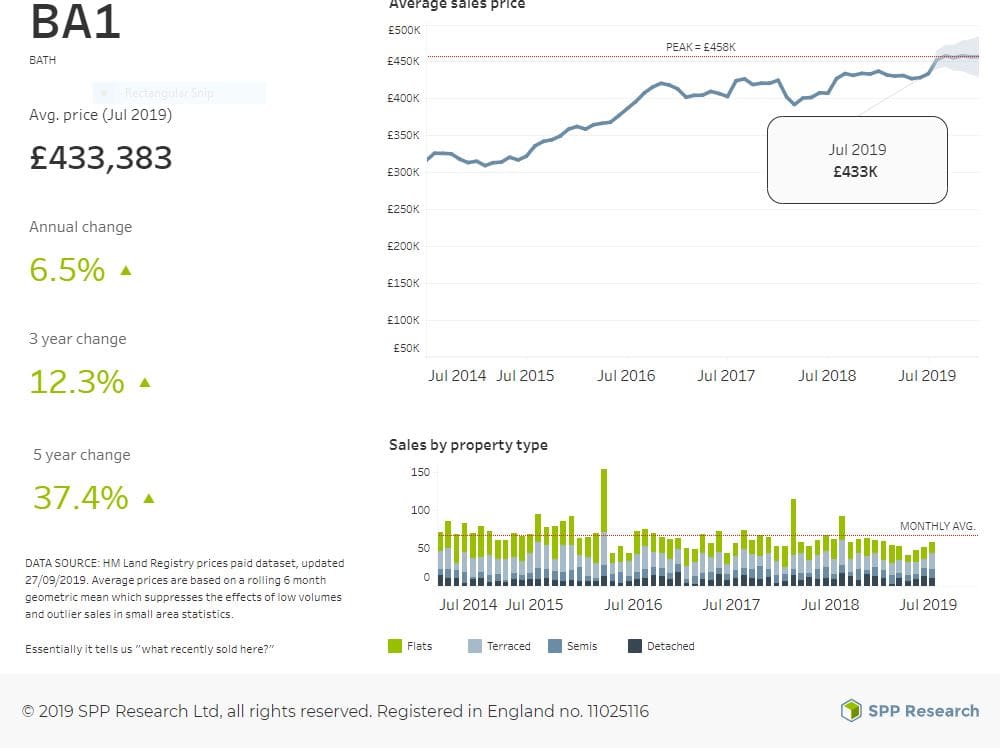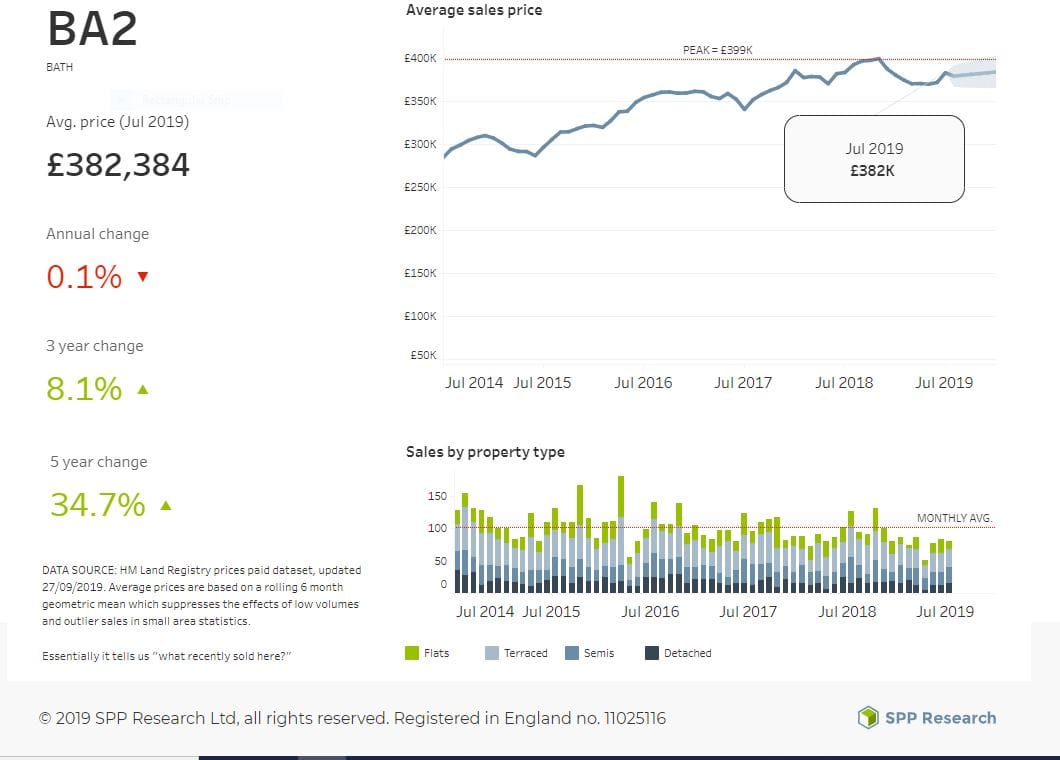 Above property price data provided via Propdex
Basic property stats below – collected 07/10/19. If you'd like to see our full spreadsheet covering data back to March 2017, its available to view at 2017-19 Bath prop data
Total property on market in Bath
Rightmove – 888
Zoopla – 697
OnTheMarket – 590
Home.co.uk – 872
New Instructions in last 14 days
Rightmove – 156
Zoopla – 126
OnTheMarket – search option not available
Home.co.uk – 73
Average Time on Market
Less than 1 month – 18.8%
Less than 2 months – 34.2%
More than 1 year – 9.2%
Selling Time in Bath (last 90 days)
Mean – 24 days
Median – 57 days
Properties for Sale in Bath by Price
Under 200k – 5.9%
200k to 300k – 18.4%
300k to 500k – 37%
500k+ – 38.5%
Mean Selling Times in Bath by price bracket
100 to 200k – 150days
200 to 300k – 137days
300 to 400k – 105days
400 to 500k – 129days
500k to 1million – 118days
1million+ – 139days
Property on market by Type
Flats – 36.8%
Terraced – 24%
Semi-detached – 21.1%
 Detached – 18.2%